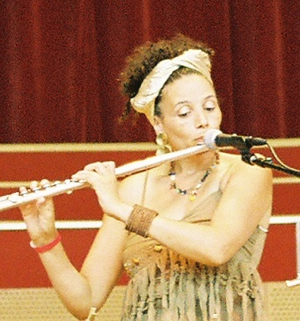 About a year ago I was at a party and had the good fortune to sit down next to
Nicole Mitchell
and
Kiran Ahluwalia
. We had a long, interesting conversation about our respective creative processes, and happily discovered that Nicole was in an orchestra (Chicago Sinfonietta) that was about to play some work that Kiran had composed. Nicole was also going to play at
the Stone
that week and we had tried to come see her, but weren't able to make it.
It took a year
to see Nicole play but we finally caught her at the Stone Saturday night. This time she was on the bill as "
Nicole Mitchell's Truth or Dare"
(Nicole Mitchell with
Renee Baker
and
Shirazette Tinnin
). I'm going to have to take some time to process what I heard and recollect all the places my mind traveled, but I have to say right now that they set the place on fire. Each artist had her own funk. It was great to hear three creative musicians with distinctive, but complementary styles play with such force and at the same time such generosity towards one another. And it was great to feel my mind stretch as it did to hear their sounds, to be surprised in the ways that I was, and at the same time to feel such a recognizable
flavor
. The music felt good; the music pushed me, too. Walking home in the cold, cold,
cold
night, Keith and I were light on our feet, so thrilled to have seen and heard what we saw and heard. YesYes.
Truth or Dare. This image is from Feast of Music.
The one above is from JazzChicago

Labels: AACM, Nicole Mitchell, Renee Baker, Shirazette Tinnin, The Stone, Truth or Dare